The Wedding Week
OR When Rina Met Krissy. Again.
As those who know me or have read the Angel Headquarters series know, Krissy and I are best friends. We met online in a Jax chat 4 years ago, and a beautiful friendship was born. <.g> Only problem was, I live in Illinois and she's in Washington state. In December 98, I was finally able to go and spend a week with her for Christmas. Sadly, we didn't think very well and took absolutely ZERO pictures of ourselves together!
Well, a year after my visit, Krissy's boyfriend Eric popped the big question, and in August 00, the two were married. Krissy had asked me to be a bridesmaid, so I was able, once again, to fly to Washington. This time we both came prepared. Here are some of my favorite pictures from the week. A link to some that Krissy took will be up eventually. : )

The first ever picture of us together! I'm the redhead with the X-Phile t-shirt and golden halo/aura. She's the curly haired one wearing a lei. This was when we were arranging all of the flowers for the wedding with her two sisters Megan and Lisa.

Well, Krissy's going to kill me. LOL This is a shot from her bachelorette party, and that is Midori Melon Liqueur she's pretending to guzzle. Yes, she's pretending, I swear. Really. 0: )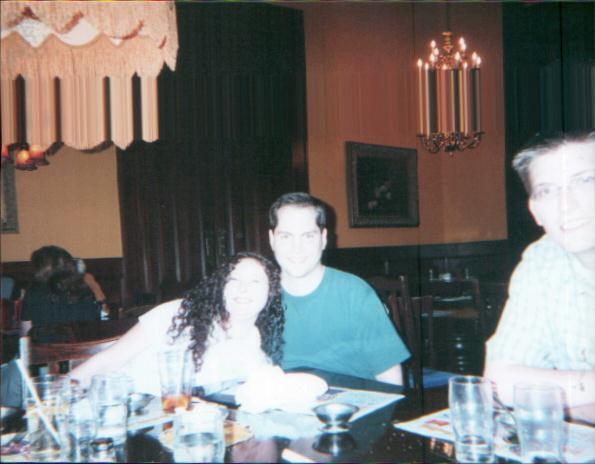 Here's the Beeson's! Well, they weren't then, but they are now. This shot of Krissy and Eric is from the night after the bachelor/ette parties. Both sides were very hush hush about the events of the previous night. Unless Eric and his friends really DID have a Tupperware party, in which case they are very sad people. LOL The blond guy at the edge of the picture is Eric's friend Gabe.

Here's a great shot of Krissy in her wedding dress. Notice the butterflies and leaves embroidered on it? It was so perfectly Krissy!

Here's another shot of me and Krissy! See how kind she was to us bridesmaids? The dresses are the least ugly I've ever seen for bridesmaids, and I'd even go so far as to say they were beautiful. : )

Here's me and Krissy again, but this time with her sister Megan as well. Meg was the maid of honor, and even got to sing a beautiful song by Steven Curtis Chapman during the ceremony. Lisa was taking the picture, or else we'd have gotten her in there, too! Doesn't Meg's hair look awesome?? Lisa's looked the same, only longer. I was jealous. <.g>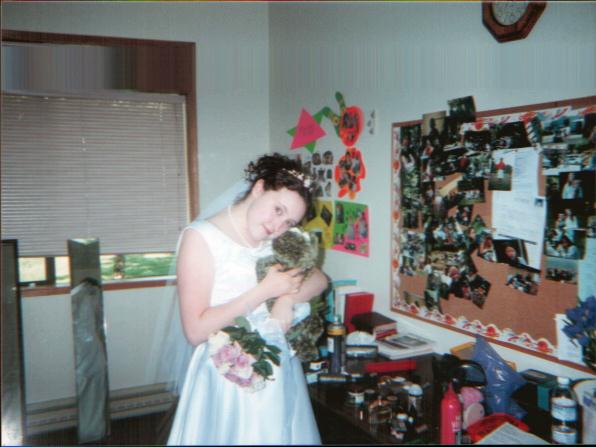 This is my favorite picture of Krissy. She bought the frog at Target the night I took the picture of her and Eric. Isn't it totally cute?? She made sure to bring him to the wedding and the honeymoon. The frog, I mean. Eric, too, of course, but I really hope that you had already guessed that!

Cool pics, huh? More will probably come at a later date. : ) Meanwhile, check out these links.

Love-Productions.com
Krissy's main website, with graphics and web jewelry and more.

The Wedding Page
Everything you could ever possibly want to know about the wedding, the planning for it, and the aftermath.

HR blog Keep up with mine and Krissy's lives and ramblings. More her than me.

Chasing Rainbows
So you can go back to where you came from. : )